BLOOM | Indigenous Language Learning RPG
Artist: Bri Alexander (Cherokee Nation, Shawnee Tribe), Carey Flack (Creek, Choctaw, and Cherokee Freedmen)
USA | 2019 | Game
All Ages
It's 2045 and you're visiting your community, the Cherokee Nation. Your mission: complete community-strengthening quests, be gifted language to beat Trickster's challenges, and interact with the world and in-game characters to learn cultural knowledge.
Led by two Indigenous women, BLOOM prioritizes Indigenous knowledge, perspectives, and creatives in the building process. BLOOM's ultimate vision is to elevate and make visible Indigenous voices now so that we can reclaim our pasts and shape our futures from the bottom-up and inside-out.
Artist: Santo Aveiro-Ojeda (Guaraní)
Canada | 2019 | Game
All Ages
You have been summoned by community of witches, and must act as their impartial judge but for what purpose? Mystery unfolds around you as you explore a world and a story about community and accountability.
SANTO is an artist, speaker, and gamemaker. They currently reside in Toronto, Canada, where they create art based around expressions of brujeria and ancestral traditions. SANTO is also a co-director at Dames Making Games, a non-for-profit arts organizations dedicated to supporting non-binary and women creators in making, playing, and changing games.
Ekwehe:we: The Real People
Artists: Waylon Wilson (Tuscarora Nation), Milo Jacobs (Onondaga Nation)
USA | 2019 | Game
All Ages
Take on the role of a young Tuscarora person learning their culture. As you learn more about your traditional ways, the more you evolve into having superhuman-like abilities. It is your mission to utilize your gained knowledge and protect the Tuscarora Nation from parasitic robots!
Waylon Wilson is from the Tuscarora Nation, Deer clan. Raised in the Nyučirhę'e (Tuscarora Nation Territory), Waylon utilizes his lens as a Tuscarora man to address critical Indigenous and environmental issues while exploring how interactive media can help sustain and propel practices of Indigenous knowledge. He is currently a Master of Design (MDes) student at Concordia University and received his Bachelor of Arts (BA) in Media Studies from the University at Buffalo.
Artists: Sarah Biscarra Dilley (yak tityu tityu yak tilhini Northern Chumash), Ashlee Bird (Abenaki)
USA | 2019 | Game
All Ages
Walk through a 3-dimensional digital gallery that utilizes the original works of yak titʸu titʸu yak tiłhini artist, Sarah Biscarra Dilley. Explore what it means to be "in" a space, and how we, as Indigenous women artists, choose to maintain and recreate, or bend and reshape, spaces and places through our creation.
Sarah Biscarra Dilley is a multidisciplinary artist and emerging scholar. Her interdisciplinary process explores the spaces between the worlds, grief & joy, and body & land. Being raised in Chumash, Chicanx, and queer family traditions - and between urban and rural environments - directly informs her understandings of embodiment and place as spatial, temporal and grounded in relationship.
Ashlee Bird is a PhD Candidate in Native American Studies at the University of California, Davis. Her work focuses on the history of representation of Native Americans in video games, as well as the decolonization of the video game industry. Ashlee's creative practice centers an Indigenous lens within video games and contemplating what "representation" entails.
Artist: Maize Longboat (Kanien'kehá:ka), Ray Caplin (Mi'gmaq)
Canada | 2019 | Game
All Ages
Set on Earth in the far distant future, this 2-player cooperative platformer explores what first contact between Indigenous and Settler peoples might look like thousands of years from now. Two worlds collide after a mysterious spacecraft crashlands in Earthborn territory. Follow Terra, an Elder Earthborn landkeeper, and Nova, a youthful Starborn inventor as they explore their respective environments and interact with the people of their communities.
Maize Longboat is Kanien'kehá:ka (Mohawk) from Six Nations of the Grand River and was raised on the traditional, ancestral, and unceded territory of the Coast Salish peoples near Vancouver, BC. He has an MA in Media Studies from Concordia University in Montreal, QC. His research-creation thesis project examined Indigenous videogames and culturally-connected development practices through the production of his own game, Terra Nova, a two-player, cooperative platformer with an interactive narrative. Currently, Maize is the Skins Workshops Associate Director with Aboriginal Territories in Cyberspace (AbTeC) and the Initiative for Indigenous Futures (IIF).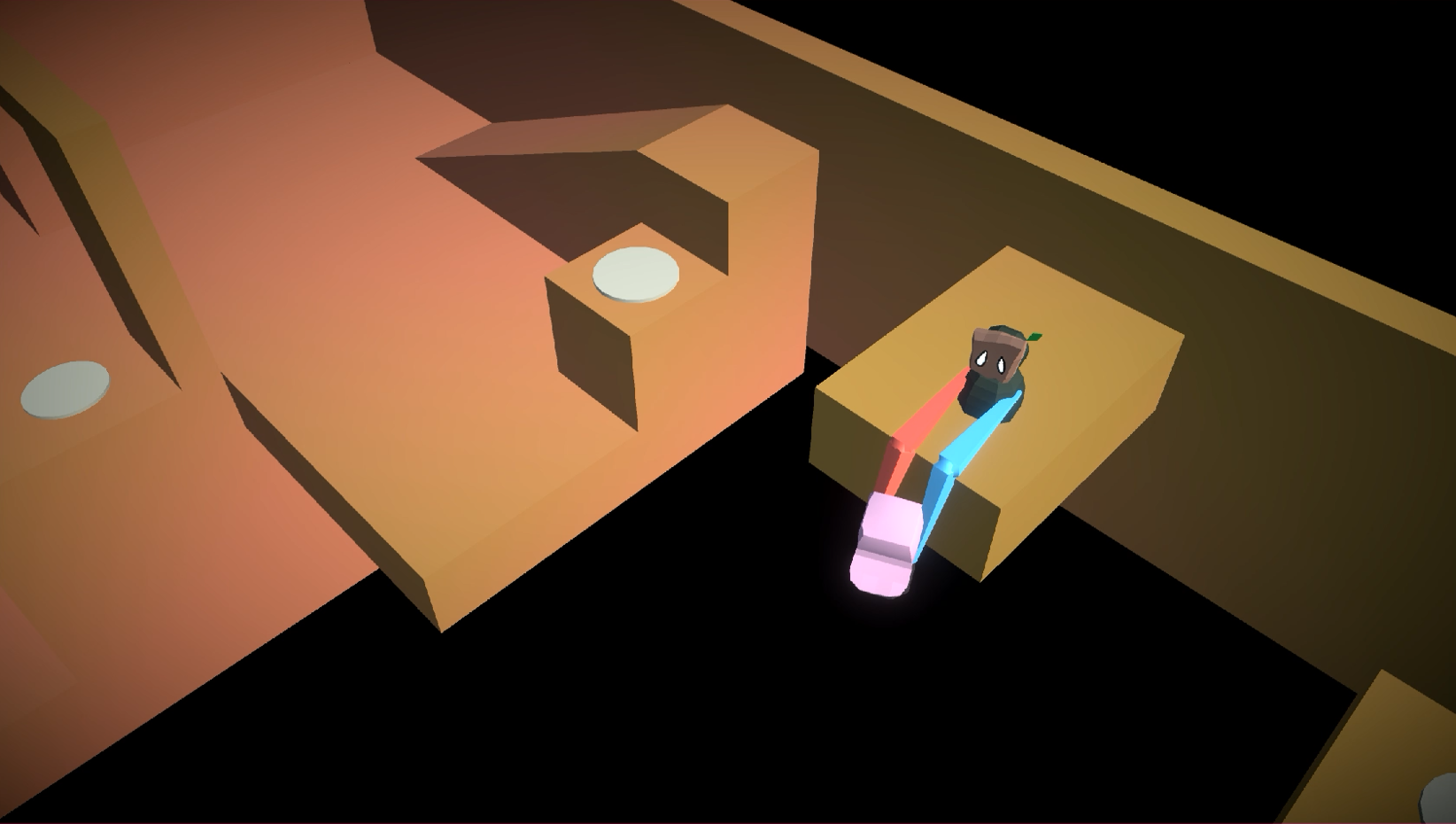 Artist: Nathan Powless-Lynes (Mohawk)
Canada | 2019 | Game
All Ages
Hold My Hand is a cooperative puzzle game about two people holding hands and overcoming obstacles together. Embark on a journey of companionship, attachment, and letting go.
Nathan Powless-Lynes is an award-winning game designer from southern Ontario. He prides himself on creating unique, different-yet-pleasant games. He is a recent graduate from Sheridan College's Bachelor of Game Design program. In the past few years, he has presented his games and spoken at events including Level Up, EGLX, imagineNATIVE, and Different Games. Nathan is currently employed at Ubisoft Toronto as a level designer.
Artist: Carl Petersen (Oohe Numpa Lakota, Cheyenne River Sioux Tribe), Megan Zephier (Yankton Sioux Tribe), James Sierra (Oglala Sioux Tribe)
USA | 2019 | Game
All Ages
Learn the steps of constructing a traditional Lakota Tipi (Tent Home) in Lakota while listening to fluent Lakota speakers. Learn Lakota through listening to the conversations found in the everyday of traditional camp life.
Northern Plains Games is a Game Design Studio founded by Carl Petersen, a member of the Oohe Numpa Band of Lakota (Cheyenne River Sioux Tribe), to create games in the Lakota Language. Carl is a Game Design Student at Dakota State University, who grew up on the Cheyenne River Indian Reservation which shares geography with the U.S. State of South Dakota.
Artist: Mylene Haus (Filipina)
Philippines | 2018 | Game
All Ages
Start learning and practicing Baybayin, the ancient writing script of the Tagalog people of the Philippines. Read the history and meaning of the in-game characters, then practice your knowledge of the characters in the Tower of Baybayin main game.
Mylene Haus is a first generation mestiza Filipina. She earned her degree in Computer Science, Game and Simulation Programming from Lewis University in Romeoville, Illinois. Mylene has loved gaming and computers since she was a child and has dreamed of becoming a game developer ever since. Her Filipina heritage is also very important to her and she expresses this passion through food, and independent study of Tagalog.
Wao Kanaka (the realm of humans)
Artist: Ka Lei Milika'a Collective (Kānaka Maoli)
Hawaii | 2019 | VR
All Ages
Tūtū (grandmother) tells you a story: Humanity is forgetting our responsibility to uphold aloha 'aina, the love for the land. You must use the knowledge entrusted to you to irrigate the lo'i kalo (taro fields), fish sustainably at the loko i'a (fish pond), and practice your 'oli (chanting). Afs you do this a new dream for the future is revealed to you. Wao Kanaka is a Hawaiian-language, first-person, exploration and puzzle game set in a universe filled with Kānaka Maoli (Hawaiian) characters and traditions.
Ka Lei Milika'a is the collective formed by the participants of the Skins 6.0: He Au Hou 2 Workshop, a three-week intensive videogame workshop in Honolulu during which the group conceptualized and developed Wao Kanaka. Majority Native Hawaiian, Ka Lei Milika'a is made up of 17 young adults from a variety of disciplines and professional areas, many with little to no digital production skills or background in making video games.
Waskwetin Pahkwesihkan (Bannock Bounce)
Artists: Dallas Flett-Wapash (Swampy Cree - Keeseekoose First Nations)
Canada | 2019 | Web Game
All Ages
Play as BB the bouncing bannock and dodge hungry crows as long as you can!
Dallas Flett-Wapash is a First Nations Swampy Cree Game Designer currently residing in Brandon, Manitoba focusing on video game production & development. He is currently attending Brandon University to achieve his Bachelor of Fine Arts.
Artist: Nichlas Emmons (Miami and Shawnee), Elizabeth LaPensée (Anishinaabe and Métis), Weshoyot Alvitre (Tongva), Supaman (Apsalooke)
USA | 2019 | Game
All Ages
With contributions from over twenty Indigenous writers, follow an Anishinaabe person who has been displaced from their territory in Fond du Lac in Minnesota and must survive a journey to California due to the impact of allotment acts on Indigenous nations. Developed in collaboration with the Indian Land Tenure Foundation and Michigan State University's Games for Entertainment & Learning Lab.
The WRWT Team is a collective of Indigenous game designers, artists, writers and musicians who were brought together by the Indian Land Tenure Foundation and Michigan State University's Games for Entertainment & Learning Lab to develop When Rivers Were Trails. This team includes Elizabeth LaPensee, Nichlas Emmons, Weshoyot Alvitre, Supaman, Allen Turner, Carl Petersen, Sara Siestreem and many more.