SHANE BELCOURT'S TKARONTO SCREENS THIS FRIDAY IN CELEBRATION OF TORONTO'S 175TH ANNIVERSARY
MARCH 6, 4PM
CITY HALL, 100 QUEEN STREET WEST, COMMITTEE ROOM 1
www.toronto.ca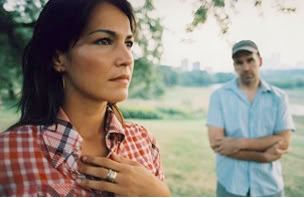 "Smart and sexy and arresting, and the performances (especially from Melanie McLaren as Jolene) are terrific.. This is a worthwhile indie feature attracting a lot of deserved buzz, so catch it while you can" – Liz Braun, Ottawa Sun
"One of the year's most appealing local indie features." – Jason Anderson, Eye Weekly

"Delicate and revelatory. Feels at once so deeply personal and so universal." - Now Magazine
 
To mark Toronto's 175th Anniversary on March 6, 2009, City Hall will open its doors and invite residents in to celebrate the heritage, unity and diversity of our city through music, literature and art, including a screening of Tkaronto. City Hall will be transformed into an exhibition hall featuring art installations, spoken word, dance and music. Special programming will also commemorate the City's early history.
TKARONTO was one of the highlights of the 2007 imagineNATIVE Film + Media Arts Festival, where over 100 people were turned away from the sold-out closing night gala screening. Kerry Swanson, the Executive Director of the festival in 2007 called it "the most successful closing night screening in the festival's eight-year history." TKARONTO explores writer/director Shane Belcourt's Métis heritage in this "smart and sexy and arresting...Aboriginal version of Before Sunrise." Liz Braun

TKARONTO stars an all Aboriginal cast, led by Duane Murray (An American in Canada) as the funny and self-deprecating Ray and Melanie McLaren (starred in 2007 Cannes film festival short film The Gardner) in a breakout performance as the conflicted Jolene. The cast also includes award-winning Lorne Cardinal (police officer 'Davis Quinton' in Corner Gas) as the discerning Elder Max Cardinal and multi-talented Cheri Maracle as his culturally-grounded wife Linda.

Ray (Duane Murray) and Jolene (Melanie McLaren) discover an unexpected connection when their paths' cross in Tkaronto (the original Mohawk word for "Toronto"). Ray, a Métis writer, has come to Toronto to pitch his TV series, Indian Jones, which is promising to be the big break Ray needs, especially with a pregnant girlfriend back home. Jolene, a Los Angeles-based Anishnabe painter, is passing through Toronto to conduct an interview with a prominent Elder Max (Lorne Cardinal) and is suddenly taken aback when Max presents her with an eagle feather, an honour that she feels unworthy of.  

As Ray faces his ambivalence about impending fatherhood and the prospect of selling his material to ignorant TV Execs, Jolene grapples with self-doubt and struggles to finish her interviews with Max. An attraction between them develops as both are drawn together by a mutual search for meaning in their urban existence.  

For Jolene and Ray home feels very far away. But through their chance meeting they reveal their hopes, dreams, fears and failures and realize their common struggle: to stake claim to their urban aboriginal identity.